ANSI Standard Attachment Roller Chains
ANSI Standard Attachment Chains are available in different shapes and styles suitable for diversified applications in various industries and machinery throughout the world. The most popular attachment sizes and shapes are available from stock include bent and straight side plates with one or two holes as well as extended pin attachments. These chains are extremely useful for many OEM designs and more importantly in the aftermarket as replacement or design change requirements.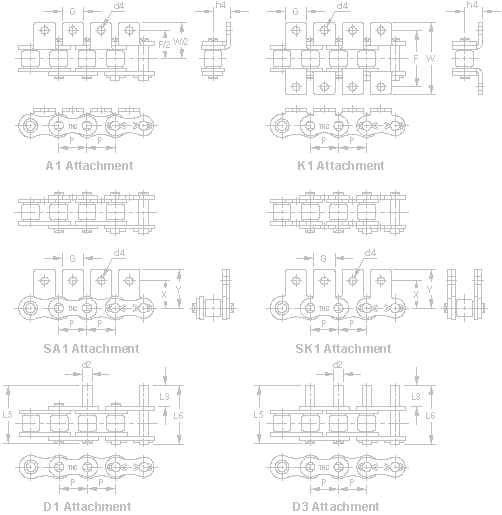 A1, K1, SA1, SK1, D1, D3 Attachment Chains
AA1, KK1, SAA1, SKK1, WA1, WK1, WA2, WK2, WSA1, WSK1, WSA2, WSK2 Attachment Chains

Notes:

1) When ordering attachment chains, please specify base chain number, types (or styles) of attachment, attachment spacing and packed chain length. For example, 80NP-K2X2L-80L means the base chain is ANSI standard short pitch precision roller chain 80, connected with K2 attachments every second link, and the chain is packed in 80 links per length including one connecting link, both the base chain and attachments are nickel-plated.
2) If possible, supply a drawing of sketch to avoid errors or confusion of design and assembly. If attachment chains are to be used in pairs, please inform us so that assembled chain lengths can be matched accordingly.
3) All products are available in zinc-plated (ZP), nickel-plated (NP), copper-plated (CP), dacrotised (DT), and stainless steel (SS) versions. Hollow pin (HP) and side bow (SB) versions are also available.
4) Made to order attachments are available on request. For the information of base chain, please visit ANSI Standard Short Pitch Roller Chains.
Home | Back to Conveyor Chains | Site Map
Tel: 86-10-8795-2546 | Fax: 86-10-8795-2541 | E-Mail "THC"
Read this page before you inquire!

Copyright 1998-2010 by Beijing THC Limited. All rights reserved.