Sharp Top Chains
Sharp top chains (or sawmill chains or sticker chains or lumber conveyor chains), are manufactured from the top quality BS/DIN or ANSI standard roller chains for conveying purposes in the timber and pulp industries. Extremely hard sharp tops reduce chain wear and secure timber for transfer. The fully machined bottom allows for precision contact on the wear surface and smooth flow of the chain. A wide range of tooth configurations and bi-directional designs are available. Of superior design, this specialist product offers high tensile strengths, minimal elongation and longer chain life. Features of the design development provide the benefits of faster processing, reduced plant down time and significantly reduced damage to the conveyed timber. A wide range of sizes and specifications is available along with a comprehensive program of non-marking chains incorporating plastic components.



Sharp Top Chains: STA - STK Type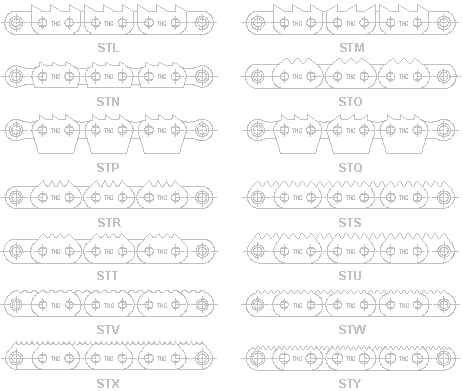 Sharp Top Chains: STL - STY

Standard sizes available: ANSI 50 to 240, BS/DIN 12B to 32B, Strand: 1 to 6
Tooth number: flat, 1 to 8; tooth type: STA - STY

Home | Back to Conveyor Chains | Site Map
Tel: 86-10-8795-2546 | Fax: 86-10-8795-2541 | E-Mail "THC"
Read this page before you inquire!

Copyright 1998-2010 by Beijing THC Limited. All rights reserved.