Bushed Roller Sugar Mill Chains for Western Market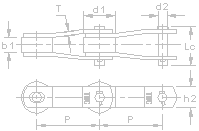 Base chain (straight sidebar and offset sidebar)

For detailed information, please contact THC sales department.
Home | Back to Special Application Chains | Site Map
Tel: 86-10-8795-2546 | Fax: 86-10-8795-2541 | E-Mail "THC"
Read this page before you inquire!

Copyright 1998-2010 by Beijing THC Limited. All rights reserved.