ANSI Standard Stainless Steel Attachment Chains
Beijing THC exports ANSI Standard Stainless Steel Roller Chains built in accordance with ISO606 DIN8187. Products are available in #304 and #316 stainless steel in single strand (duplex), double strand (duplex) and triple strand (triplex). Standard and made-to-order attachments are also available.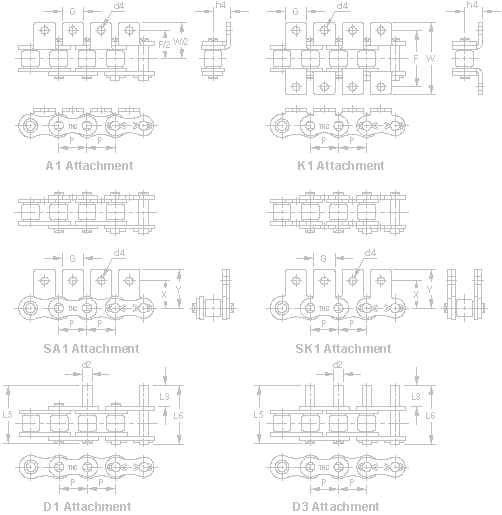 A1, K1, SA1, SK1, D1, D3 Attachment Chains
AA1, KK1, SAA1, SKK1, WA1, WK1, WA2, WK2, WSA1, WSK1, WSA2, WSK2 Attachment Chains

For stainless steel roller chain sprockets to suit these stainless steel chains, please contact the sales department for pricing.
Home | Back to Stainless Steel Chains | Site Map
Tel: 86-10-8795-2546 | Fax: 86-10-8795-2541 | E-Mail "THC"
Read this page before you inquire!

Copyright 1998-2010 by Beijing THC Limited. All rights reserved.