Stainless Steel Anti-Back-Bend Chains
THC stainless steel anti backbend chains (anti-backbend chains) are derived from standard BS/DIN or ANSI standard stainless steel roller chains with special featured construction for the ventilation system of air and fog. All parts are made in 300 series stainless steel.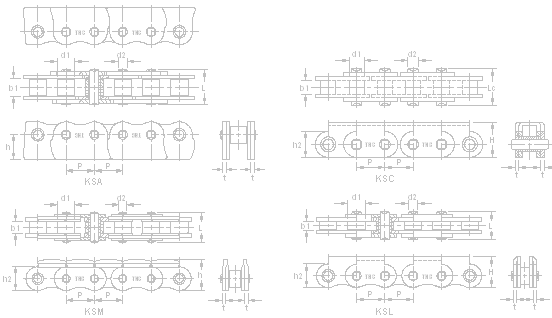 KSA, KSC, KSL, KSM Stainless Steel Roller Chains (Anti-Back-Bend Stainless Steel Chain)
Pitch Size (P): 9.525, 12.70, 15.875 mm

Home | Back to Stainless Steel Chains | Site Map
Tel: 86-10-8795-2546 | Fax: 86-10-8795-2541 | E-Mail "THC"
Read this page before you inquire!

Copyright 1998-2010 by Beijing THC Limited. All rights reserved.