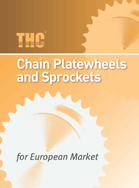 Chain Platewheels and Sprockets for European Market
Steel Platewheels and Hub Sprockets (SB) for BS/DIN Roller Chains
- 03B, 04B, 05B, 06B, 081, 083/084, 08B, 10B, 12B, 16B, 20B, 24B, 28B, 32B
Steel Sprockets (Type C, SB) for BS/DIN Roller Chains
- 10B, 12B, 16B, 20B, 24B, 28B, 32B
Steel Sprockets (Type D, SB) for BS/DIN Roller Chains
- 06B, 08B, 10B
Steel Hub Sprockets (FB) for BS/DIN Roller Chains
- 06B, 08B, 10B, 12B, 16B, 20B
Steel Sprockets (TB) for BS/DIN Roller Chains
- 06B, 08B, 10B, 12B, 16B, 20B, 24B, 28B, 32B
Cast Iron Sprockets (SB, GG25) for BS/DIN Roller Chains
- 06B, 08B, 10B, 12B, 16B, 20B, 24B
Cast Iron Sprockets (TB, GG25) for BS/DIN Roller Chains
- 06B, 08B, 10B, 12B, 16B, 20B
Stainless Steel Sprockets (SB) for BS/DIN Stainless Steel Roller Chains
- 03BSS, 04BSS, 05BSS, 06BSS, 08BSS, 10BSS, 12BSS, 16BSS, 20BSS, 24BSS, 28BSS, 32BSS
Idler Sprockets with Ball Bearings for BS/DIN Standard Roller Chains
- 05B, 06B, 081, 083, 08B, 10B, 12B, 16B, 20B
Double Single Sprockets (SB) for BS/DIN Roller Chains
- 06B, 08B, 10B, 12B, 16B, 20B
Double Single Sprockets (TB) for BS/DIN Roller Chains
- 06B, 08B, 10B, 12B, 16B, 20B
Weld-On Sprockets and Weld-On Hubs for BS/DIN Roller Chains
- 06B, 08B, 10B, 12B, 16B, 20B; VT, WT, XT, YT Steel Hubs
Steel Platewheels and Hub Sprockets (SB) for BS/DIN Double Pitch Roller Chains
- 208B, 210B, 212B, 216B; C208B, C210B, C212B, C216B
Table Top Chain Platewheels
Chain Wheels for ISO Standard Solid Pin and Hollow Pin Conveyor Chains (ISO 1977)
- M20, M28, M40, M56, M80, M112, M160, M224, M315, M450, M630, M900; MC28, MC56, MC112, MC224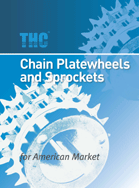 Chain Platewheels and Sprockets for American Market
Steel Platewheels and Hub Sprockets (SB) for ANSI Standard Roller Chains
- M10, 15, 25, 35, 41, 40, 50, 60, 80, 100, 120, 140, 160, 180, 200, 240
Steel Sprockets (Type C, SB) for ANSI Standard Roller Chains
- 40, 50, 60, 80, 100, 120, 140, 160, 180, 200, 240
Steel Hub Sprockets (FB) for ANSI Standard Roller Chains
- 25, 35, 41, 40, 50, 60, 80, 100
Steel Sprockets (TB) for ANSI Standard Roller Chains
- 35, 41, 40, 50, 60, 80, 100, 120, 140, 160
Steel Sprockets (QB) for ANSI Standard Roller Chains
- 35, 41, 40, 50, 60, 80, 100, 120, 140, 160, 200
Steel Sprockets (ST) for ANSI Standard Roller Chains
35, 41, 40, 50, 60, 80, 100, 120, 140, 160, 180
Stainless Steel Sprockets (SB) for ANSI Standard Stainless Steel Chains
- 11SS, 15SS, 25SS, 35SS, 40SS, 50SS, 60SS, 80SS
Double Single Sprockets (SB) for ANSI Standard Roller Chains
- 40, 50, 60, 80, 100
Double Single Sprockets (FB) for ANSI Standard Roller Chains
- 35, 40, 50, 60, 80, 100
Double Single Sprockets (TB) for ANSI Standard Roller Chains
- 35, 40, 50, 60, 80, 100
Double Single Sprockets (ST) for ANSI Standard Roller Chains
- 40, 50, 60, 80, 100
Weld-On Sprockets and Weld-On Hubs for ANSI Standard Roller Chains
- 40, 50, 60, 80, 100; V, W, X, XX, Y Steel Hubs
Steel Platewheels and Sprockets (SB) for ANSI Double Pitch Roller Chains
- 2040, 2050, 2060, 2080, 2100, 2120; 2042, 2052, 2062, 2082, 2102, 2122
Steel Platewheels and Hub Sprockets (TB) for ANSI Double Pitch Roller Chains
- 2040, 2050, 2060, 2080, 2100
Steel Platewheels and Hub Sprockets (ST) for ANSI Double Pitch Roller Chains
- 2040, 2050, 2060, 2080
Idler Sprockets with Ball Bearings for ANSI Standard Roller Chains
- 25, 35, 40, 50, 60, 80
Flame Cut Sprockets (SB) for Engineering Class Drive Chains
1) D1654 Series (or 62 Series): Pitch 1.654"
2) D2500 Series (or 64 Series): Pitch 2.500"
3) D3067 Series (or 1568 Series): Pitch 3.067"
4) D3075 Series (or 1030 Series): Pitch 3.075"
5) D3500 Series (or 238 Series): Pitch 3.500"
6) D4063 Series (or 1240 Series): Pitch 4.063"
7) D4073 Series (or 1245 Series): Pitch 4.073"
8) D4090 Series (or 4122 Series): Pitch 4.090"
9) D4500 Series (or 635 Series): Pitch 4.500"
10) D5000 Series (or 1207 Series): Pitch 5.000"
11) D5500 Series (or 5542 Series): Pitch 5.500"
12) D6000 Series (or 6042 Series): Pitch 6.000"
Flame Cut Sprockets (SB) for Engineering Class Conveyor Chains
1) C2609 Series (or 78 Series): Pitch 2.609"
2) C3075 Series (or 82 Series): Pitch 3.075"
3) C4000 Series (or 124 Series): Pitch 4.000"
4) C6050 Series (or 132 Series): Pitch 6.050"
Steel Pintle Chain Sprockets (Type D, FB): 662, 667X, 88K
Chain Wheels for Type S and C Steel Roller Chains (ISO 487)
S32, S42, S45, S52, S55, S62, S77, S88; CA550, CA620, CA555, CA557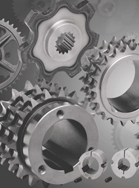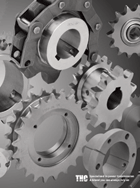 Principal Abbreviations Used on this Website (THC's Nomenclature for Types of Bore):
1. SB=Stock Bore, Pilot Bore, Minimum Bore, Straight Bore, Reboreable Bore, Plain Bore, Minimum Plain Bore (MPB)
2. FB=Finished Bore, Bored to Size (BTS)
3. TB=TB Type Taperbushed Bore
4. QB=QB Type Taperbushed Bore
5. ST=ST Type Taperbushed Bore
6. LA=Locking Assembly Bore
7. SP=Spline Bore
8. SQ=Square Bore
9. BB=Bearing Bore



Home | Stainless Steel Chains | Transmission Drive Chains | Conveyor Chains | Leaf Chains
Special Application Chains | Round Link Chains | Platewheels and Sprockets | Site Map
Read before Inquire | Tel: 86-10-8795-2546 | Fax: 86-10-8795-2545 | E-Mail "THC"



Remember to bookmark this web site for your future convenience!
Copyright 1998-2023 by Beijing THC Limited. All rights reserved.